Welcome to Ionian Sailing!
Ionian Sailing provides a luxurious sailing boat, fully-equipped for your own unforgettable cruise around the Ionian Islands.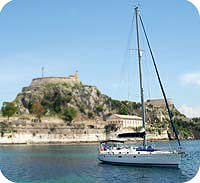 Enjoy your summer holidays in the beautiful crystal clear waters of the Ionian Sea with a luxurious sailing yacht! Spend endless hours of relaxation and tranquility in luxurious, air-conditioned, spacious cabins with a capacity of six guests! An experienced skipper will guide you around the most beautiful routes of the Ionian Sea!